Red Devon USA National Show and Sale
---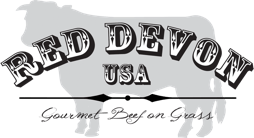 The Red Devon USA National Show and Sale offers the finest in Red Devon Cattle. Exhibitors bring cattle from around the world to show, sell and network with other ranchers.
We all want our herds to produce a quality product but in order to do that, we need quality cattle. The Devon is an "all around breed." Devons offer an even-tempered demeanor, high level of fertility, hardy frame and the ability to adapt to temperatures.
The Red Devon USA National Show offers ranchers the opportunity to see the best in the breed.
2018 World Devon Congress and National Show: May 21st through May 28th
4 Seasons Farm LLC is excited to be a host farm for the World Devon Congress Mini-tour. Red Devon Breeders from around the globe will visit our farm to see our operation and cattle. We will have top quality Red Devon genetics on display. We plan on showcasing our cows/ pairs and bulls at the home farm and then we will travel down the road a few miles to our herd of stockers and feeder cattle. Don't miss this great opportunity to gain insight from breeders from various countries and backgrounds. Lunch of 4 Seasons' Devon beef tenderloin, boneless rib roast, pulled pork, and sides provided!
For more information on the World Devon Congress and National Show,
click here
.